Regular price
600 SEK
Sale price
499 SEK
Unit price
per
Sale
Sold out, change quality for more options
View full details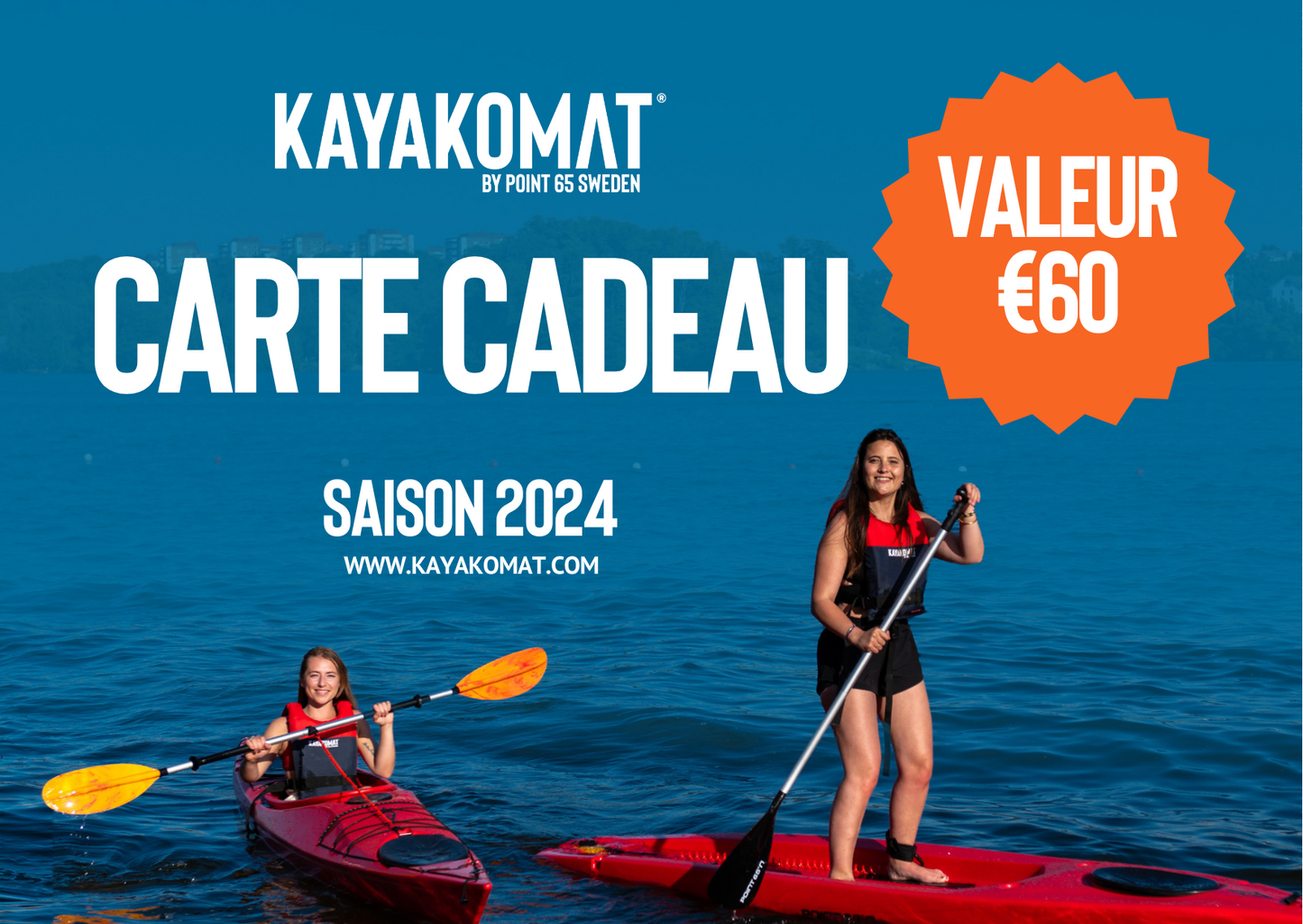 OFFREZ UNE EXPÉRIENCE EN KAYAK OU EN STAND-UP PADDLE
KAYAKOMAT propose la location de kayaks et de stand-up paddles en libre service en France et en Allemagne. Invitez quelqu'un que vous aimez en achetant une carte cadeau pour l'été 2024. Après l'achat, vous recevrez une jolie carte cadeau numérique à envoyer ou à télécharger et à imprimer. Après votre achat, un code unique est envoyé, qui est utilisé au moment de la réservation sur www.kayakomat.com

TERMS:
-La carte cadeau est valable dans les KAYAKOMAT sélectionnés. Elle ne s'applique pas à d'autres stations.
-La carte cadeau n'est pas personnelle.
-Réservation selon les tarifs en vigueur de KAYAKOMAT au moment de la réservation.
-La carte cadeau est épuisée lorsque le coût total de la location atteint 60€.
-Si le montant de la réservation dépasse la valeur de la carte cadeau, le montant restant est réglé lors du paiement.
-Nous nous réservons le droit de fermer des stations en raison de perturbations opérationnelles imprévues. En cas de fermeture permanente d'une station, nous pouvons rembourser la valeur restante.
-La carte cadeau est valable du 15 mai au 15 octobre 2024.
-Veuillez noter qu'un certain nombre de stations ferment pour la saison dès le 15/9, cela peut être consulté sur notre site Web.
-L'acheteur de la carte cadeau est personnellement responsable de l'équipement.
-KAYAKOMAT n'accepte pas le droit de rétractation ni le rachat des cartes cadeaux.
-L'acheteur de la carte cadeau accepte nos Conditions Spéciales en relation avec l'achat, que ce soit l'acheteur ou une autre personne qui pratique le kayak. Tout abus ou violation de celles-ci peut entraîner l'annulation de la carte cadeau sans remboursement.
- Otherwise, our Special Terms and Conditions apply. Abuse or violation of these means that the card can be canceled without refund.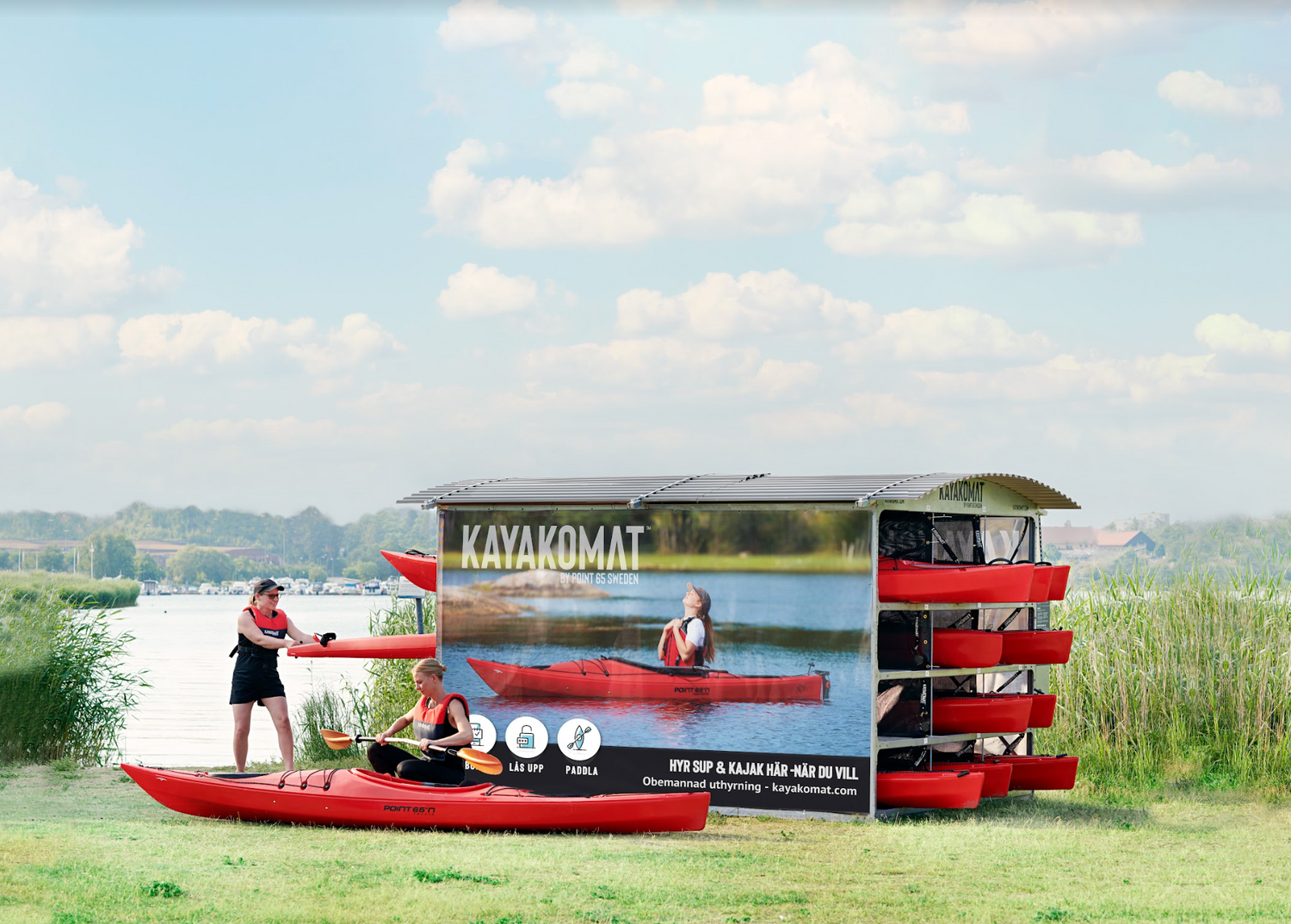 KAYAKO FOOD
KAYAKOMAT offers unmanned SUP & kayak rentals in nearly 100 locations in Sweden, from Piteå in the north to Malmö in the south. Book online, get a code for your kayak or SUP, unlock it and go on an adventure. In the kayak/on the SUP board are the accessories you need such as a paddle and a life jacket. In the morning and evening, the water is often calm, which is why we are open around the clock
KAYAKOMAT.COM