Regular price
600 SEK
Sale price
499 SEK
Unit price
per
Sale
Sold out, change quality for more options
View full details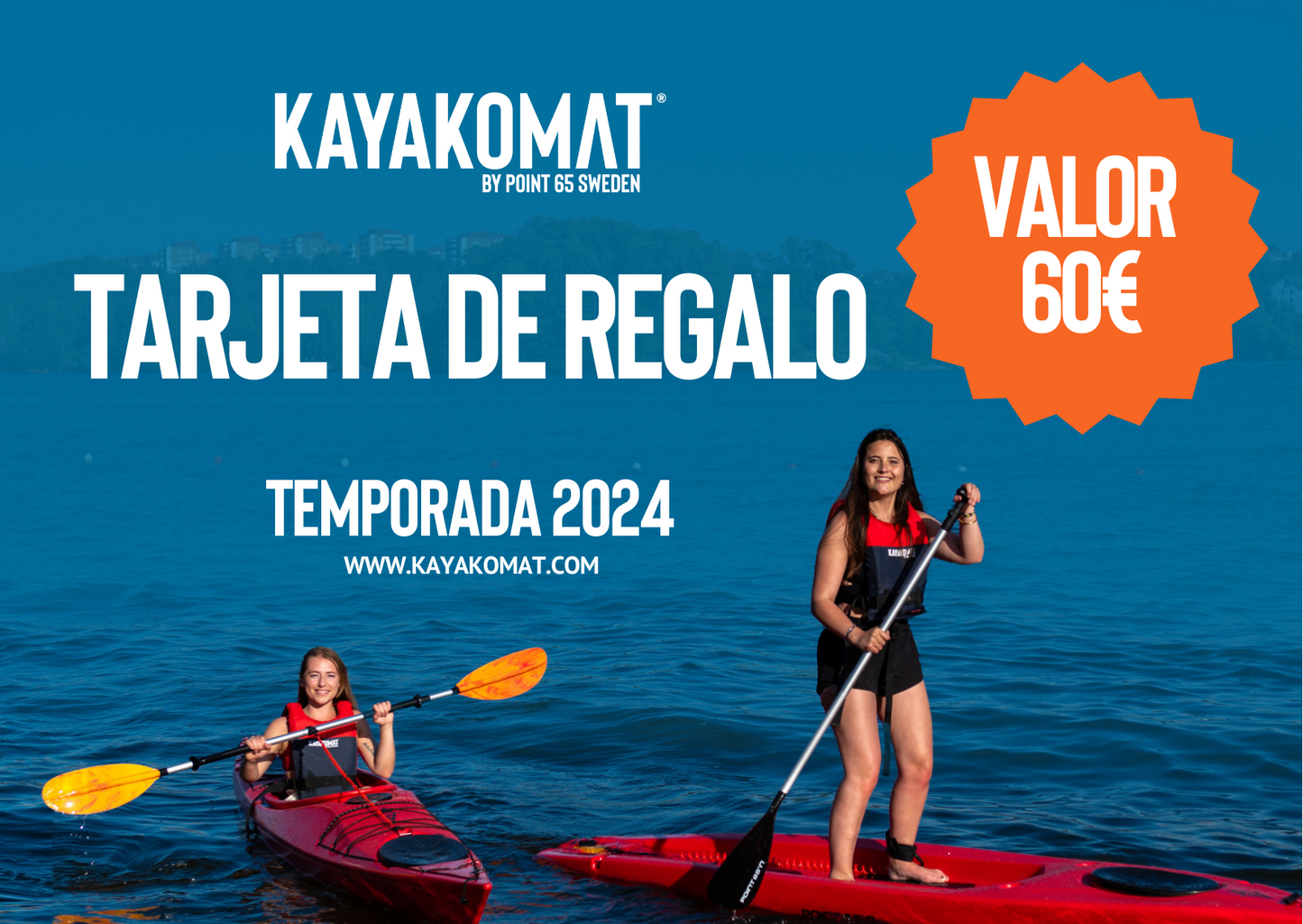 REGALA UNA EXPERIENCIA EN KAYAK O PADDLE SURF
KAYAKOMAT ofrece el alquiler de kayaks y tablas de paddle surf (SUP) en autoservicio en varios lugares de toda España. Invita a alguien que aprecies comprando una tarjeta regalo para el verano de 2024. Después de la compra, recibirás una hermosa tarjeta de regalo digital que puedes enviar por correo electrónico o descargar e imprimir. Tras tu compra, recibirás un código único que deberás utilizar al hacer una reserva en www.kayakomat.com.

TERMS:
- La tarjeta de regalo es válida en estaciones KAYAKOMAT seleccionadas y no es aplicable en otras ubicaciones.
- La tarjeta de regalo no es personal y se puede compartir.
- Las reservas se realizan según los precios actuales de KAYAKOMAT al momento de la reserva.
- La tarjeta de regalo se agota cuando el coste total del alquiler alcanza los 60 €.
- Si el monto de la reserva supera el valor de la tarjeta de regalo, el saldo restante se pagará al finalizar la reserva.
- Nos reservamos el derecho de cerrar estaciones en caso de interrupciones operativas imprevistas. En el caso de un cierre permanente de una estación, procederemos al reembolso del valor restante.
- La tarjeta de regalo es válida desde el 15 de mayo hasta el 15 de octubre de 2024.
- Ten en cuenta que algunas estaciones cierran para la temporada tan pronto como el 15 de septiembre; esta información se encuentra en nuestro sitio web.
- El comprador de la tarjeta de regalo es personalmente responsable del equipo.
- KAYAKOMAT no permite el derecho de desistimiento ni la recompra de tarjetas de regalo.
- El comprador de la tarjeta de regalo acepta nuestros Términos y Condiciones Especiales en relación con la compra, independientemente de si el comprador o cualquier otra persona realiza la actividad de remo. El abuso o la violación de estos términos puede dar lugar a la cancelación de la tarjeta de regalo sin reembolso.

- Otherwise, our Special Terms and Conditions apply. Abuse or violation of these means that the card can be canceled without refund.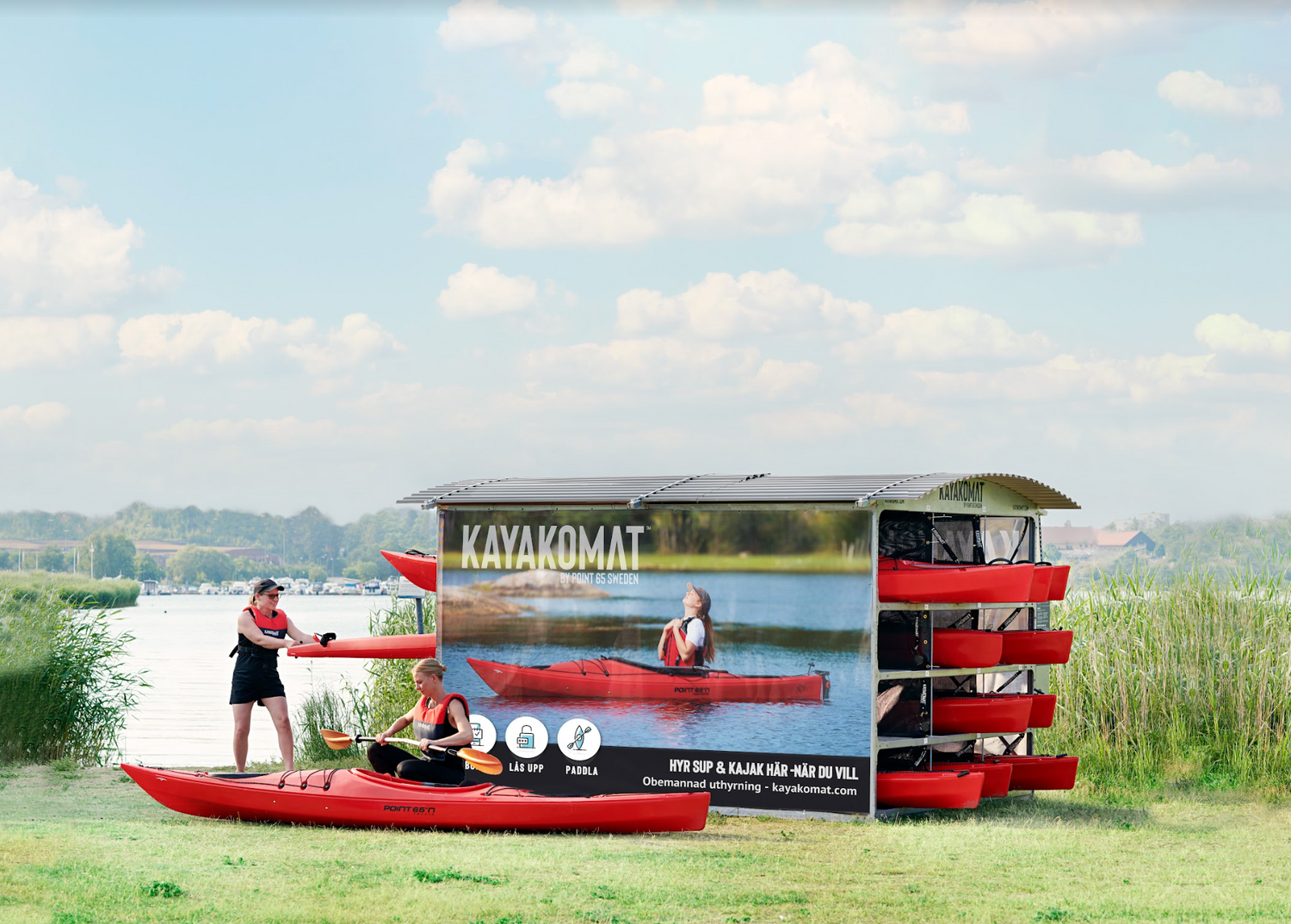 KAYAKO FOOD
KAYAKOMAT offers unmanned SUP & kayak rentals in nearly 100 locations in Sweden, from Piteå in the north to Malmö in the south. Book online, get a code for your kayak or SUP, unlock it and go on an adventure. In the kayak/on the SUP board are the accessories you need such as a paddle and a life jacket. In the morning and evening, the water is often calm, which is why we are open around the clock
KAYAKOMAT.COM